Birkett Bogmats' groundwork foundation of success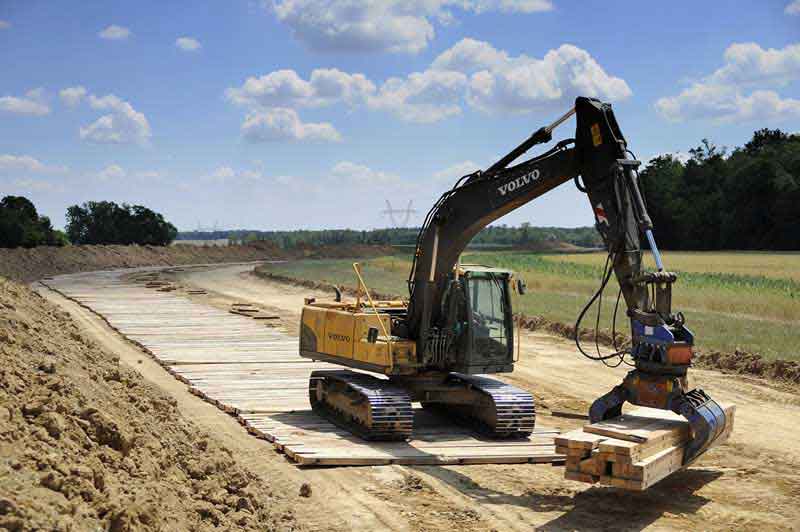 A West Cumbrian business is enjoying an unprecedented level of enquiries in January 2016, having created record sales in one division of the business in 2015.
Birkett Bogmats, based in Rowrah, captured a significant share of the UK hire market for its timber access mats in 2015. This was the first year it had strategically marketed the hire side of its business, having previously focused mainly on customers wishing to purchase bog mats outright for their construction, civil engineering and utilities projects.
This success in the hire market was partly attributable to Birkett's competitive hire rates, but largely down to the company's reputation for service excellence. With a dedicated account manager overseeing every aspect of the delivery and taking ownership of all customer requirements, Birkett Bogmat's service enabled it to stand apart in the ground mat hire market.
As customer, Dean Roskell, of DRL Group, says: "The service from Birkett Bogmats was fabulous and it differentiated them from other suppliers. They went out of their way to answer my queries and delivered a first-class customer experience. Additionally, their timber mats were top quality, properly made and robust. I shall definitely be continuing to use them as my access mat supplier."
As a result of its growing reputation, Birkett Bogmats has entered the New Year with great buoyancy. It has already quoted for over £8 million of business in 2016, with quotes currently out for projects in the UK, Europe and other countries further afield.
The company is growing in new markets, such as solar and wind power, but also in niches where the durability of the Birketts product and its ability to stand up to heavy loadings in poor and uneven ground conditions comes into its own.
Managing director, Juanita Watts, is also working on a new product, which will be launched over the coming months, to enable Birkett Bogmats to enjoy more market growth.
Juanita Watts says: "2015 was a stellar year for the business, but the indications are that 2016 will be even better. However, the most satisfying thing is receiving customer feedback from clients like DRL Group. This proves that, despite our impressive growth, we are still maintaining our high level of customer service, which is the basis on which we have built the business. We continuously raise the bar in our sector and will continue to do so, as we explore new markets and create new products. With the groundwork done, we can eye expansion and further product development in 2016."
For all your Bogmat requirements – Purchase or HirePlease call us on +44 (0) 1946 863021or send an email to [email protected]Best Prices and Customer Service Guaranteed